There are two basic types of microscopes: compound and stereo. Click on any of the following links to find out more! This page is printer-friendly.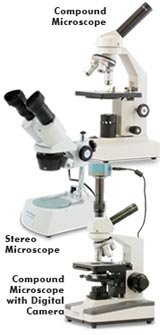 How to Select a Compound Microscope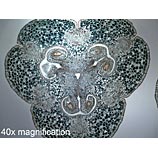 Finding just the right compound microscope really depends on your needs and preferences:
– Is standard 400x magnification okay, or do you need 1000x magnification to see greater cell detail? 400x is ideal for high school biology; 1000x is best for college microbiology.
– Do you want a mechanical stage for precise slide control? It's not necessary, but it makes viewing slides easier. 1000x microscopes should have a mechanical stage built in; you can add it to most other microscopes.Whether you buy a microscope from us or from another company, keep these features in mind. They will help you decide on the best-quality microscope to meet your needs.All of the microscopes that Home Science Tools sells have quality glass optics. (Plastic optics, like those in most toy microscopes, produce blurry images.) They also have sturdy metal frames and most have both coarse and fine focusing. These are standard features; we don't recommend settling for anything less!

About magnification:
To figure out the total magnification for a compound microscope, you need to know about two sets of lenses. The objective lens, which is closest to the specimen slide stage, produces an enlarged, inverted (upside-down) image of the specimen. The eyepiece lens then magnifies the image further. Total microscope magnification is determined by multiplying the objective magnification by the eyepiece magnification. Most educational-quality microscopes have a 10x (10-power magnification) eyepiece and three objectives of 4x, 10x and 40x to provide magnification levels of 40x, 100x and 400x. Magnification of 400x is the minimum needed for studying cells and cell structure.
400x Microscopes:
Our Home microscope is the best choice for most families and schools; it gives you exceptional quality at a low price. Customers consistently rate it with five stars (you can read their reviews on the product page). This full-size compound microscope is easy to use and provides large, clear images that will meet your needs for high school biology. It has standard magnification levels of 40x, 100x, and 400x and lenses that are achromatic, parcentered, and parfocaled, meaning they prevent image color distortion and keep a slide in focus even when you change magnification levels. The Home microscope is pre-drilled for a mechanical stage if you decide to add one. (This provides more precise slide control.) The Home LED microscope has all the same features as the Home microscope along with a long-life LED bulb.
For a printable guide to the Home Microscope's features, click here.
If you're looking for something more specialized but still at a low price, the Home Advanced microscope has an adjustable 1.25 Abbe condenser and iris diaphragm to provide better image contrast.
The National Optical 131 microscope is the microscope used in many high schools. Its features, except for lighting, are the same as the Home microscope. The Home model uses cool fluorescent lighting, while the 131 model is available with either tungsten or LED lighting. Fluorescent lighting is better than regular tungsten for observing live specimens (such as protists) or using the microscope for a long period of time.
All of the Home microscopes and the National Optical microscopes have a lifetime warranty. We recommend them for all ages.
Kids' Microscopes:
It's important to get as good-quality optics as you can afford even for a beginner, so they don't get frustrated by bad views through their microscope! You can get glass optics and precision mechanics with at least intermediate for a comparable price to a cheaply-made toy microscope. Our Kids microscope and cordless Kids LED cordless microscope are lower-cost options for the elementary grades. They do have smaller optics and intermediate focus mechanisms which produce an image that is not quite as sharp as our better microscopes, but they're a very child-friendly option that will provide years of use. The LED lighting is brighter and cooler than tungsten or fluorescent, and the bulb should last 100,000 hours—a lifetime of normal use! We recommend these for ages 5-13, as the optics do not provide the clear detail necessary for some high school biology work.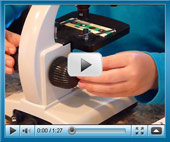 Watch our Kids Microscope video to learn more about this great tool!
Or, for a printable guide to the Kids Microscope's features, click here.
1000x Microscopes:
You'll be able to see greater specimen detail with a 1000x microscope, but in most cases you won't need it unless you're doing a microbiology course or using it in a laboratory.
Our Advanced microscope provides a 100x oil immersion lens and features like an adjustable iris diaphragm for excellent contrast control and an integral mechanical stage for precise slide scanning. You can order it with a binocular head for extra-comfortable viewing or with a dual head for simultaneous teacher/student use and for video/digital photography. Although this level of quality and features is not necessary for high school, these microscopes are great for those who have a strong interest in microbiology or for kids who want to pursue a career in medicine. They are college and laboratory quality. The Ultimate models have a lifetime warranty.
NOTE: while the 1000x magnification level provides greater detail, it takes more time and care to use – you'll need to apply immersion oil to the slide and clean the oil off the slide and microscope objective after each use. You'll also need to use more care in adjusting the contrast and focus.
If you want the features of these ultimate microscopes at a more affordable price, we offer the Home 1000x microscope. The optics are very good, but do not quite measure up to the superb resolution and clarity of the Ultimate.

Request our latest catalog for free to conveniently compare all these microscopes (plus browse hundreds of other hands-on science products!)
---
How to Select a Stereo Microscope or Dissecting Microscope
Return to Top of Page
Stereo and dissecting microscopes are excellent tools for exploring natural wonders. Stereo microscopes are designed for viewing whole objects such as minerals, insects, stamps, and coins, although they can also be used to view slides. They have lower magnification power than compound microscopes, usually 20x or 30x. The two eyepieces of a stereo microscope provide greater depth perception than a compound microscope does, giving you a three-dimensional view.
Dissecting microscopes are stereo microscopes that can be used to show greater specimen detail during a dissection. Top lighting is the best kind to use with a dissection, as the light will reflect back up off the opaque surface of the specimen.
All of these stereo microscopes have standard 'rack and pinion' focusing. To focus, you just turn a knob to slide the head of the microscope up and down (closer or farther from the specimen).
Lower magnification (10-20x) produces a larger field of view and is best for young kids. It is also ideal for viewing stamps and coins. Higher magnification (30-40x) is better for close-ups and more detailed work.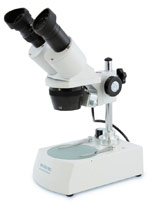 The Dual Power microscope make great dissecting scopes. Available with lower 10/30x or higher 20/40x power. Just turn the objective turret to change magnification. It has both top and bottom lighting and more room for specimens – the working distance is 65 mm with a 55 mm maximum specimen size on-stage. Its binocular head makes viewing extra-comfortable. Lifetime warranty.
If you're looking for a zoom stereo microscope, the 15x-40x Stereo Zoom microscope from National Optical is the best we've found. It provides magnification from 15 to 40x (and every point in between) just by rotating the objective turret. This model has both top and bottom lighting and a 80 mm working distance with 110 mm maximum specimen height. Its binocular head makes viewing extra-comfortable. Use for grade 7 and up. Lifetime warranty. We also carry a Digital Stereo Zoom microscope.
How to Select a Microscope for Homeschool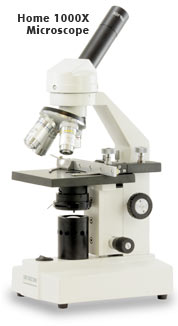 We offer microscopes that are ideal for families and homeschools! We've added our own line of family and homeschool-friendly compound microscopes designed specifically to meet your needs in both quality and budget. The Home microscope has 40x, 100x, and 400x magnification and fine and coarse focusing. Its optics provide large, clear images. It uses extra-bright, cool fluorescent lighting for extended use or viewing of live specimens, and is pre-drilled for a mechanical stage to provide more precise control of slide movement. The quality optics and magnification on this and the others in the Home series will meet your needs through high school!
Digital microscopes are helpful tools for homeschool co-ops.
The Home 1000x microscope allows you to get a close-up view of cells without having to buy an expensive lab microscope. It has a oil-immersion 100x objective lens for 1000x magnification and a built-in mechanical stage for precise slide control. This is a good choice if you plan on studying microbiology.
The National Optical 131 microscope is also a good choice for families and homeschools. This full-size compound microscope is very comparable to the Home model, but has slightly better physical finish. It's easy to use and will meet your needs through high school. It has magnification levels of 40x, 100x, and 400x and standard tungsten lighting rather than brighter fluorescent lighting like the Home models. It's also pre-drilled for a mechanical stage if you decide to add one.
How to Select a Digital Microscope or Digital Camera
A digital microscope is a great tool for both group and individual microscopy. You can use it to save, edit, and share still and video images of specimens, making this a great microscope for a homeschool co-op or other classroom! Display the magnified images on your computer, project them onto a screen, and send them by e-mail. Imaging software lets you zoom, count cells, create reports, and more.
If you already have a regular microscope, we also offer digital cameras that have most of these special features.
Our Digital Camera Eyepiece pack comes with a 10x microscope eyepiece that can replace any standard 23 mm compound microscope eyepiece. The easy-to-use software lets you take still and video images with 640 x 480-pixel resolution at up to 30 frames per second. Automatic brightness and fine-focus ensure sharp images every time.
For a better camera, we offer this 3.0 megapixel digital camera with a high-resolution 3.0 megapixel camera that produces 2048 x 1536 pixel images at up to 30 frames per second. This package includes a lightweight eyepiece camera, adaptors, and imaging software. It works best with microscopes that have fluorescent or halogen lighting.
---
Microscope Slides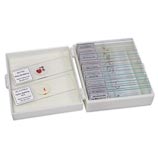 Find an affordable set of prepared slides to use with your microscope, whether you're interested in anatomy, zoology, botany, or just want a starter set.
Check out our tips for making slides and doing other activities with your microscope.