Some classes are just plain hard to teach! Now more curriculums are designed specifically for homeschooling families, requiring less teacher preparation time and less-costly lab activities. The Apologia science curriculum is a great homeschool-friendly curriculum; we highly recommend it for use in junior high and high school. Also, Alpha Omega offers workbook-based curriculum for all subjects and grade levels with little teacher involvement necessary, which works well for independent learners.
The cost of science lab materials for high school can be a deterrent, but with some planning you can adapt hands-on activities to fit your budget. Many experiments can be done with household items (e.g., using a Pyrex measuring cup instead of buying a glass beaker) and often the most expensive labs can be ommited altogether. Select the labs that you think will give your kids the best hands-on experience without breaking your budget. Some curriculums, such as Apologia, are written specifically for homeschools and have less-costly labs using primarily household items.
However, if you're sure that you won't be able to teach some subjects adequately to your kids, but still want to homeschool them through high school, here are some other options.
Homeschool Co-op
Many cities offer homeschool co-ops where a group of homeschool moms swap classes. If teaching art or math is a strength for you, you could teach that subject to the co-op's kids, and in turn your kids could participate in classes taught by other moms that would be more challenging for you to teach, say, English and science. Other co-ops pool their resources to hire an outside teacher, rather than having the moms do all the teaching.
Usually co-op classes are available for high school level, but some are aimed at elementary and junior high age as well. Co-ops are a great way to give your kids more in-depth classes on some subjects as well as provide interaction with other teachers and homeschooled kids. If you don't want to teach a class in the co-op, often you can still enroll your child for a fee. Check out the Homeschool World listings to find the nearest homeschool organization; you should then be able to get more information about co-ops locally.
Online or Computer-Based Courses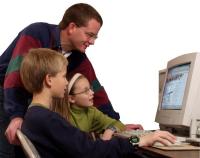 Web-based classes are another way to solve the high school dilemma. If you don't feel up to tackling subjects such as geometry or high school literature, there are many classes available online. For those interested in classical education, there are several excellent online tutorial services. Many universities are also offering online classes that your high school juniors or seniors can enroll in for college credit. (Local colleges will usually let juniors or seniors attend some regular classes, so that's another option.) Or, if you'd like your children to take all of their classes online, try an internet-based school.
You might also be interested in Alpha Omega's Switched-on Schoolhouse program. The full course comes on CD-ROM, with online support available. The advantage of using the computer rather than a textbook is that there are many video clips and other special features that reduce the need for teacher involvement. This program is available for grades 3-12.