Every year most homeschool families go through the difficult process of deciding what curriculum to use for the next year. Shifts in education priorities, successes and trials from the previous year, maturing students, and growing teacher confidence and experience are just a few of the factors that drive this process. Many hours can be spent researching and evaluating curriculum in search of tools that will help you provide a better education for your children. Using subjective reviews is risky because the particular needs of you and your students are likely different from the perspective of the reviewers.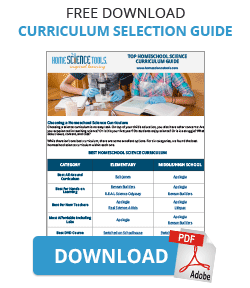 Selecting a science curriculum is further complicated because many parent-teachers are less comfortable with the subject matter and consideration of the quality of hands-on activities adds complexity. The process of evaluating and choosing a science curriculum can be very time-consuming but we have condensed it to just 30 minutes with our Science Curriculum Selection Guide. This guide is based on reviews and objective ratings of 24 criteria from our staff of experienced parents and teachers.
Because needs of parents and students vary widely, there is no single "best" science curriculum for every situation. However, we have identified the top-rated science curriculum based on six popular categories using the Science Curriculum Selection Guide. If one of these categories fits your situation well, then we recommend the curriculum selected.
Note that the top-rated curriculum differs for elementary and middle/high school. This is due to a number of factors including scope and sequence, approach, publisher's expertise, or a difference in writers. A curriculum that works well for you in the elementary years may be inadequate to meet your needs as your children advance to middle school or high school. We recommend that you stick with a science curriculum that works well for you through the elementary grades but re-evaluate when your child approaches 7th grade. You may even want to re-evaluate again when your child reaches high school.