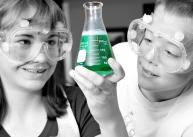 If kids have a favorite question, it's probably 'Why?" Make science fun and exciting for your students by encouraging their natural curiosity about the world and teaching them how to find answers for themselves. After all, much of science is investigating 'why':
Why does a caterpillar form a chrysalis? Why do leaves have veins? Why do some paper airplanes fly better than others? Like scientists, kids can sharpen their observation skills and learn to make and test hypotheses to uncover the answers. Here are ideas to get students started exploring science and finding out 'why':
Make It Fizz.
Do exciting chemistry demonstrations with colorful and fizzy reactions that encourage class discussion! Go beyond a typical vinegar-and-baking-soda foaming experiment. Help elementary-age children make non-toxic polymer slime or homemade bouncy balls. Younger and older students would enjoy investigating the unique properties of thermo-chromatic, non-Newtonian Thinking Putty.
Find Out How Things Work.
Whether they want to be engineers or not, most kids are fascinated by how things work. To discover the scientific principles behind everyday technology, study such famous inventors as Thomas Edison and then do projects showing how their inventions work!You can also help students demonstrate physics principles using household items: Can they figure out how to build a bridge out of popsicle sticks or even create a miniature roller coaster Or perhaps they'd have a blast building a balloon rocket car from a recycled water bottle.?
Explore Technology & Renewable Energy.
With gas prices going up and down, now is a good time to get your junior high & high school students thinking about alternative and renewable energy sources, which could be fueling their futures. Get a complete kit to make your own Power House with solar, wind, electrochemical, and plant energy sources. The kit comes with a lab manual and provides enough activities for a semester of science.Just need some quick solar energy projects instead? Help your students build a solar oven or make a solar water purifier.
Watch It Grow.
How does a chick hatch? Are insects different as larvae than as adults? Do plants really sprout from tiny seeds? Students can find out by observing the fascinating development process of animals and plants! Ladybugs, butterflies, quail, and tadpoles all have unique life cycles that are easy to study in the classroom.To study plants with elementary students, Dunecraft plant kits are a good choice – these mini-greenhouse designs keep moisture in and help plants grow quickly. Or engage your students by building a terrarium. Either way, enjoy watching the whole process from seed to mature plant and herbs!
Let's Be Practical.
What everyday issues affect – and interest – your students? From glow-in-the-dark germ demonstrations that can lead to ideas on keeping healthy to a paper making project that can foster an interest in recycling to weather studies that increase knowledge of how the daily weather works, there are as many possible projects as days in the year!